Athletic Wears: How Much Athletic Is Too Much For Your Customers?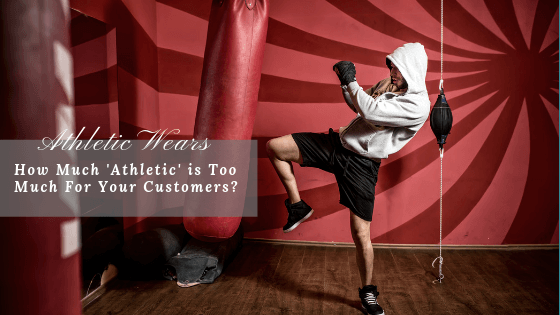 Wholesale athletic wear is a must-have for every clothing business owner today. They are in high demand with the trend line only surging higher.
But let's be blatant about this fact: They are costly.
Much superior in quality, promising unmatched comfort value with their high wicking and ventilation properties, along with premium fabric, they cost more. And it isn't something that many consumers like.
So, while you're purchasing your athletic or wholesale fitness apparel, it's important to understand whether or not you have the right target audience who would want to buy this.
Do you have consumers who are into hefty fitness activities?
Or, are you simply targeting those who get involved in mild exercise and are primarily looking for comfortable lifestyle wears? In this case, how athletic should be your athletic wears?! The more "athletic", the more would they cost, which, again, won't necessarily be preferred by the audience you're targeting.
So, the foremost step in the process is to actually recognize your target audience.
Who Are They?
Who are they? What kind of wears do they like? What is their budget?
Because while everyone demands high comfort from their daily staple, which fitness clothing offer in abundance, not many people like spending the big sum. As a retailer, you must identify the right spot between the price and quality that adequately fits the needs of your consumers, as well as deliver you the right profit margin.
Now, of course, unless your business is following a very niche-model, identifying the needs and demands of your target audience isn't something easy. The wider the segments, the more diverse would their demands be.
Who To Target?
So, when you're trying to consolidate and establish the core consumer base for your business that deserves the most of your attention, the first thing you should consider is your own interest.
Are you fine selling athletic wears? Or do you find pushing lifestyle wears to customers easier? What kind of consumers do you like communicating with?
You're likely to sell more if you genuinely believe and like the product you're selling.
In addition, if it's a brick-mortar store, you must also factor your local market, which would include the competition level and the kind of consumers that live there. (For instance, if there are many gyms, fitness centers and sports academies in your city, athletic wears would definitely sell more.)
So, once you're clear on who you really want to target, will then come the decision of what kind of wears should you wholesale.
What to wholesale?
If you're targeting amateur sportsperson, per their needs, and whose purchasing decisions are less influenced by the price, you must definitely contact one of the best fitness clothing manufacturers and purchase superior quality athletic wears.
However, if you're targeting the 20-something college-goers who hit gyms for moderate exercise, wholesaling a little cheaper athletic wears that have the lifestyle blend is a much better option.
In the end, understand that the high demand in a niche wouldn't necessarily benefit you. You must recognize the opportunities that best suit your needs and goals.
Recommended Read : The Athletic Apparel Market Worldwide Trends To Watch Out For This Year