Tracksuit Joggers: How To Wear Them For Every Occasion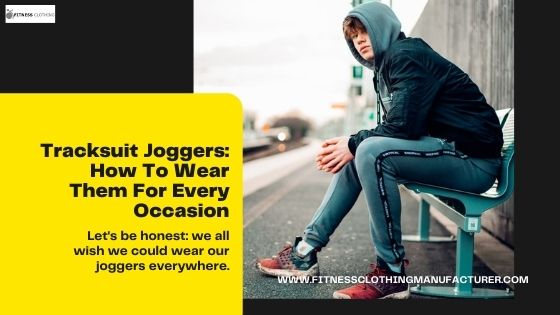 Your wish is our command, after all. This style guide has all of the inspiration and suggestions you'll need to feel comfortable no matter what the occasion. Because of the popularity of athleisure clothing, there are now a plethora of on-trend wholesale tracksuits designs to pick from that might easily pass for jeans or trousers.
Whether you need a jogger style for the gym or you're going to a formal function, jogger outfits for every occasion are actually rather simple to put together. Choose your favorite fit and keep reading to learn what to wear with sweatpants for any occasion.
What To Wear With Joggers Is As Follows:
Elegantly casual: Combine the relaxed feel of joggers with a shirt with rolled-up sleeves and loafers. If it's freezing outside, put on a knitted sweater.
Work out in pair joggers with breezy t-shirts, a matching zip-up jacket, and sporty sneakers.
For casual anything works, but a slim-fit tee and sweater combo is a good choice. Wear it with athletic sneakers.
Formal attire consists of a fresh white oxford shirt or polo neck, brogues, and a blazer matched with black skinny joggers.
If you're heading somewhere fancy, wear your nicest trackies with a nice pullover and all-black sneakers or brogues.
How To Wear Joggers
Now that you've identified the important elements to wear, it's time to focus on how to dress joggers.
When it comes to jogging clothes, finding the appropriate blend of casual and stylish is essential. Nobody likes to seem like they just rolled out of bed, so take some inspiration from our style guide to appear fresh but comfortable no matter what the occasion.
Look For Going To Class
Check prints give edgy character to even the plainest outfits, making a check shirt or blazer a must-have while wearing grey track pants. Choose a darker color scheme for the top and shoes to create a fashionable contrast that is guaranteed to catch attention.
Formal Look
Keep it classy with a fresh white shirt — choose a slim fit to show off the benefits of arm day without breaking the dress code. If the occasion calls for it, add a slim black tie and blazer; otherwise, stay with a leather jacket to give the outfit a bad guy vibe.
If you operate a business, you should seek the assistance of private label fitness apparel manufacturers who provide wholesale fitness clothes. Drop a mail stating your needs to the company.