Style Your Compression Garments With These To Make It Trend Better!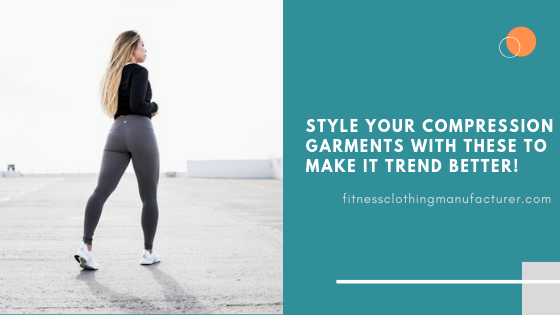 If you are an athletic apparel retail store owner and looking for better trends, then make sure your compression clothing is on point. Compressions have become a staple in activewear collections today and come with plenty of benefits – so are here to stay.
It is obvious that your collection will therefore need to be styled differently every time, especially if you care to sell it well. In this blog, we are going to tell you how to style compression garments Canada.
Let's take a look:
1. Piping Design On Neutral Colors
Have a good collection of wholesale compression leggings coming in? Then you need to design it with this idea right here – a neutral colored base, like grey, black, or navy blue and on that printed neon piping to give it a robotic and sporty look.
The lines should follow geometry and there is plenty of scope to bring robotic circuit designs with these lines, that work quite well with athleisure loving customers!
2. Perforations For Ventilation And Style
One of the latest trends that are reigning the compression fashion trends are perforations. These little wholes are made into the apparel and can look like a particular shelf design as well, if they are made into that.
It is also good for ventilation in the heat and makes your compression clothing more breathable for the wearer, thus creating a comfort for them in the summer heat outside. Perforated fashion on compression clothing Canada can be customized according to your trend ideas!
3. Stretch Color Change For Your Compression Wear
Imagine you have a compression clothing collection that is of different colors and these change into dual shades during stretching. Not only will give an idea of how much the athlete scores on mobility, but will also make sure that the stretch makes them look good.
A unique concept today, this design is only achievable by the top manufacturers in the industry and if you want to make your collection unique, then getting in touch with one will help!
So, what are you still waiting for? Try these designs on your compression clothing collection at the retail store, and you are in for such a glorious time ahead, regarding sales!
Recommended Read for You: