How To Grow Your Activewear Brand To Beat Legacy Players?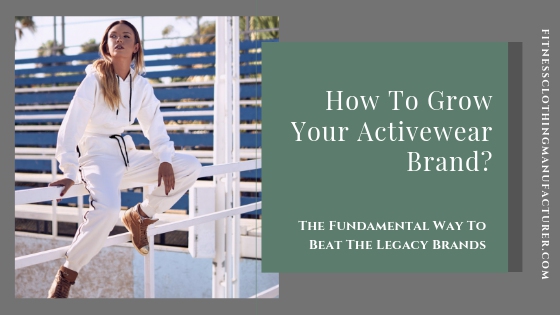 Yes, the top private label activewear clothing manufacturers have made launching your own activewear brand quite easier. But then there's a big difference between starting a business and growing it.
Competing with the legacy brands, who are armed with seamless resources, is difficult.
However, there are a few ways…
Here are 5 ways how to grow your activewear brand to beat the legacy players:
Start With The Right Quality
You can have the best marketing and pricing strategy. But if your product isn't of good quality, your business will eventually fail.
So, the foremost thing of consideration here is to keep the quality of women and men's activewear high. This also means that you must only work with one of the top wholesale activewear suppliers that's committed to high-quality wholesale just as much.
Focus On Select Segments
Don't try to target everyone. Not only is it a bad move, but it's also difficult for startups and small businesses who are usually short in budget.
So, pick a few segments: the fitness enthusiasts, college-goers, working professionals, those in the 40s and 50s, or more.
And then focus entirely on those segments. Customize your private label wholesale activewear USA and craft your marketing strategies accordingly.
Take Help From Influencers
Influencer marketing converts big. In fact, it generates as much as 11X banner ad ROI. There's a reason, after all, why influencer market is expected to become a $10 billion industry by 2020.
Tap on this opportunity.
Get in touch with niche influencers and get them to promote your private label activewear.
If done right, it can establish your brand remarkably among the segments you're targeting. The conversion is high, pricing is quite affordable.
Invest In Facebook, Instagram Ads
At present, Ad programs on both Facebook and Instagram are quite cost-effective – more so on Instagram and its Stories ads.
Plus, these programs also come with highly targeting features. So, you can easily reach out to your segment, in mass, in a very short span.
In short, take out a large part of your marketing budget and invest big on Facebook, Instagram, and even Snapchat ads. With a very low CPM, PPC, the conversion is incredibly high if you can pull the right campaign.
Don't Fight At Price
"The reason it seems that price is all your customers care about is that you haven't given them anything else to care about," said Seth Godin.
So, your overall sales strategy should be a lot away from your pricing. Have a completely different selling proposition that attracts consumers to your activewear line. It could be anything – the quality, style, personalization, more.
In the same breath, do not compete with the top market players in price. They can consume small profit margin with their high sales volume. A small business like yours cannot.
Conclusion
These are five ways how you can grow your activewear brand and beat even the legacy brands in their game.
Sure, it won't be easy. And most importantly, it won't be quick. It will take time.
Be smart in your strategies. And focus entirely on your target audience. To beat the top market players, neither do you need limitless capital nor do you need a brand that's decades old. You just need the right approach and better execution.
Recommended Read : Make Your Activewear Draw More Attention With These Customs!