What Exactly Does Athleisure Wear Mean?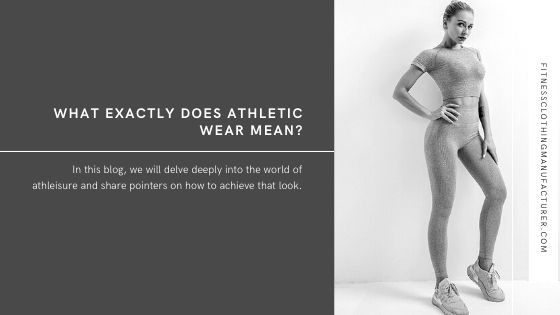 The term "athleisure" is a mixture of the terms "athletic" and "leisure." Athleisure is a lifestyle style that incorporates clothing tailored for exercise and other physical events but is not restricted to wearing it at the gym or while running. Athleisure wear should be worn to informal social gatherings as well as the office.
What are the characteristics of athleisure wear?
Athleisure wear has some of the following characteristics in common:
Versatile
Colorful
Casual
Comfortable
Trendy
What are the main pieces of clothing of athleisure?
Sweatpants
Sneakers
Shorts
Tights
Leggings
Gym tanks
Jogger pants
Sneakers
Yoga pants
Why is athleisure wear so popular?
Athleisure clothing has grown in popularity for the following reasons:
Allows for a quick workout at lunch and other spare hours.
It gives you a sense of empowerment and motivation.
People feel more involved and safer as a result of this.
It makes people feel more at ease and calm.
What are the advantages of athleisure clothing?
Athleisure wear of high quality:
Helps in posture
Allows skin to breathe
It makes you feel warmer in the winter and cooler in the summer.
It leaves the skin feeling dry, fresh, and relaxed.
Absorbs moisture, avoiding sticky and clingy clothing.
Wearable for a variety of occasions, including going to the gym, lunch with friends, grocery shopping, and training at home.
Aids in the prevention of skin irritation
Allows for free movement
What is the distinction between activewear and athleisure?
Activewear is workout attire that allows for optimum versatility, ease, and movement. These garments are often made of nylon, spandex, Lycra, and other synthetic fibers, so they are incredibly soft.
Athleisure is a style that combines activewear with mesh and leather. It has grown into a streetwear trend that allows you to look new and trendy every day. These clothes are appropriate for both workouts and recreational activities.
Is athleisure meant just for the fitness center?
No, it does not. Athleisure is a fashion trend that emphasizes the use of fashionable wholesale fitness clothing for casual workouts and events.
How can you develop your athleisure fashion sense?
Follow celebrities who rock the athleisure looks you want on Instagram.
Master the art of mixing and matching clothing and accessories.
Mix and match textures, fabrics, and colors.
Learn the art of layering clothing.
Business owners who want to bulk purchase wholesale gym clothes contact manufacturers.