Watch Out For The Edgy Wholesale Athletic Clothing Trends In 2019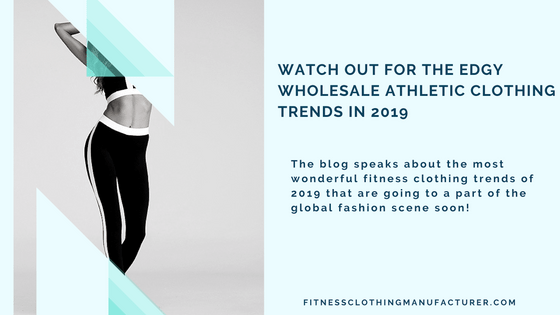 No matter how focused you are at working out to get closer to your body goals, you cannot deny that love for fitness fashion is also something that pushes your everyday forward. We, thankfully, workout wear has come a long way, and we millennials are quite lucky to deck up in the most happening athletic clothes, be it for gym classes, or even for donning great street-smart attires. Looking and feeling best is the ultimate aim, and the leading custom wholesale clothing manufacturers are churning out the workout wear items for both function and fashion.
2019 is here, and like every other year, we are definitely anticipating some fresh trends and style statements that would convince us to stay fit and fine by hitting the gym regularly. The trending activewear gear that you can witness in the market this year could give you the adrenal rush which is required for a very fruitful sweat out session!
Here are some major trends in the activewear wholesale market to watch out for in 2019.
Color Blocking
Adding life to the basic and somber neutrals like black or greys and even blues, the color blocking gym look is definitely on the radar this year. This has already dominated the workout style scene, with bold patchworks, vibrant prints, color chunks, bright stripes and much more. Go for a wonderful mix and match look in bold color blocked top or pant, paired with something neutral.
Mesh Panels
There was the year 2018 when the mesh fitness pants were reigning supreme, but not the mesh panels are making a significant entry into tops and sports bras as well. Fusing fashion and function, these mesh panels offer a lot of breathability and hotness. With proper ventilation to chic cutouts, you should definitely make your way into mesh clothes for this year.
Brightly Colored Funky Shoes
Some fashion trends come and go, but some stay forever. One of them is the habit of wearing bright and funky colored shoes. The bright colors of the eighties are making their way around, and they add a nice pop of color to your neutral colored clothes in the gym. The shoes in shades of orange, green, and yellow are trending.
The Art Of Wearing Branded Bands
The much popular wholesale athletic clothing brands are curating clothes with their bands on them. These branded bands on sports bras, pant waistbands, and pant sides showcase the love of gym freaks for a workout and help them achieve personalized looks.
The Track Style Is Back
If we go back in time, we would understand that only tracksuits were the outfits for gym goers. Well, the good news is that they are back with a bang! This time, they are more fitted and flattering with the same level of comfort, and you can wear them with contrasting outfits, like sports bras with track jackets or cropped tops and track pants!
Matching Tops With Bottoms
Interestingly, the matchy-matchy trend is still there! The ensemble creating by matching sports bra and top, and paired with a similarly printed legging gives you effortless style.
The Metallic Prints
What about sweating out in metallic prints? Sparkle as you sweat out in the shiny statement pieces in the metallic jackets to sports bras, that look great with glossy and glam finishing.
The Biker Shorts
Be it yoga, tennis, or cardio workout, the biker or cycling shorts can be worn for various occasions. Giving a toned and sculpting look. These high waisted and body-hugging shorts are must-haves!