List Of Women's Stylish Activitewear With Unique Performance Abilities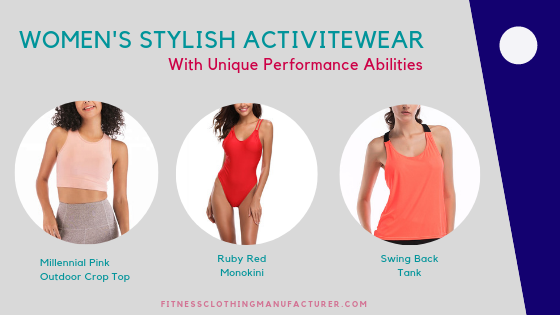 As much as you like to invest time, money and technology on yourself, it is important that you do the same with your wholesale fitness apparel as well. The ideal clothing should not only be stylish in nature but performance oriented as well. Therefore, it is important that you invest some amount of time on quality clothing as well.
In fact one of the popular fitness clothing manufacturer has come up with a unique collection of women's activity wear you cannot afford to miss. Whether you prefer to run on a treadmill or cycle your heart out, it is important that you read on the blog below to know more about the same.
Millennial Pink Outdoor Crop Top
If you like to imbibe some feminine vibes into your activity wear , then it will be advisable to opt for the millennial pink outdoor crop top. This is super fun in appeal but the best part is the breathable fabric that makes it even more suitable for outdoor workout routines.
Hence, you can either wear it for an outdoor aerobic routine or even a cycling routine.
Multi-Colored Cropped Leggings
For summers, ankle length leggings can be a bit too much. Hence, it is important that you opt for the cropped variations of the same. These are super flexible in nature and perfect for working out over a longer period of time.
The multi-colored aspect of the leggings also makes it super versatile in nature. It can be worn for workouts as well as with casual clothing.
Ruby Red Monokini
Swimming in the summers is about to get even more sultry. You can wear a ruby red monokini (similar to the M.A.C ruby woo) and literally woo everyone in the room. The non-sleazy fabric laden with an anti-microbial lining is perfect for swimming for a longer period of time. Not only this, the medium compression ability of the fabric will also allow your muscles to relax after continuous laps in the water.
Swing Back Tank
Not everyone wants to work out in a skin fitted compression tank. Sometimes you need a little room to let the air pass in the summer weather. Hence, all you need to do is opt for the bare back tank top that is perfect for performing yoga on a weekend.
The best part is these tops are available in blingy variants as well. This aspect ultimately qualifies it as a party outfit. Hence you can pretty much style this top with ripped denims and look super stylish.
Multifunctional Leggings
When we talk about multi-functional leggings, it generally means a pair that has hidden compartments as pockets. Therefore this work horse pant can be worn as a pair of casual pant as well.
The secret compartments are provided for keeping your keys, mobile and even money in the most discreet way possible. This way you don't always have to worry about losing your stuff in the gym or on the streets.
Business owners who want to include quality wholesale athletic wear in their store can get in touch with one of the popular manufacturers. All you need to do is browse through the unique collection of clothing . After selecting the required pieces state the bulk needs to the customer care team.
Recommended Read : List Of Quality Activewear That Will Elevate Your Senses While Performing Yoga