List Of Quality Activewear That Will Elevate Your Senses While Performing Yoga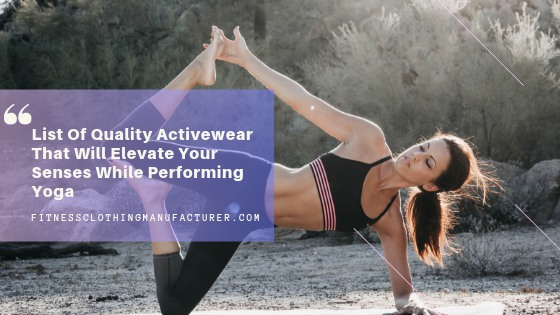 If there's one form of activity that you allow you to attain spiritual wellness, then it definitely has to be yoga. The various asana associated with yoga helps to align your bodily chakras to create positive karmic vibes. By performing sincerely and mindfully is how you attain spiritual wellness. Although you need to look for quality from all aspects. Be it in the form of the correct ambience, with the correct people or the proper clothing.
To be precise, the right kind of clothes can really help you do your activity comfortably. Hence, it is important that you invest in such pieces that are exclusively purchased from fitness clothing manufacturer. Hence, read on to know about the quality yoga clothing you should invest in for better performance.
Form-Fitting Sports Bra
A form -fitting sports bra can help you to do perform all your poses . These sports bra's provide an all around support to women irrespective of their breast size. Therefore, opt for such pieces that are constructed with a wide waist band and soft yet sturdy shoulder straps.
You can either opt for neutral tones, or select stylish pieces like a bright solid colored piece or even pretty prints.
Mesh Leggings
To be honest, if you're performing amateur yoga then chances are that cotton leggings will suffice. Although if you're associated with hot yoga, then it will be advisable to select ultra-breathable leggings that has a mesh lining on the sides.
This feature does the dual work of adding a trendy element to the clothing as well as proving you with better comfort during the workout.
Compression Tanks
Compression tanks are not just meant for high-intensity training regimes. For yoga sessions that harbors around the difficulty margin, you need such clothing that will help protect your muscles and allow proper blood circulation.
In fact you can also opt for compression cropped tanks with in-built bra. These are super comfortable for women with small chest and works wonders when you don't want to layer up in too many clothing for the season.
Cycling Shorts
You can find an array of designer cycling shorts at the collection of popular manufacturers. These are not necessarily meant for aerobic activities as you can wear cycling shorts for performing difficult postures in yoga and don't have to worry about your pants loosening or bands poking in unwanted parts.
Not only this, cycling shorts provide great comfort to your crotch area as well. Hence, you don't have to worry about excess perspiration or discomfort of sorts in that area.
Breathable Track Jacket
Chances are that when you're performing yoga, especially in the colder seasons of the month or in a cold room, you need to essentially layer up in a jacket as a tank and sports bra won't provide you with the required warmth.
Therefore, you can either opt for a sublimation style jacket that will work wonders for providing you with a distinct style.
Retailers who want to include wholesale fitness apparel in their store can get in touch with one of the popular activewear manufacturers. All you need to do is have a look through the unique clothing collection and state the bulk needs to the customer care team accordingly.
Recommended Read : The Ultimate Beginners' Guide to Working Out