Here's How Sports Bra Manufacturers Ensure They Have One For You!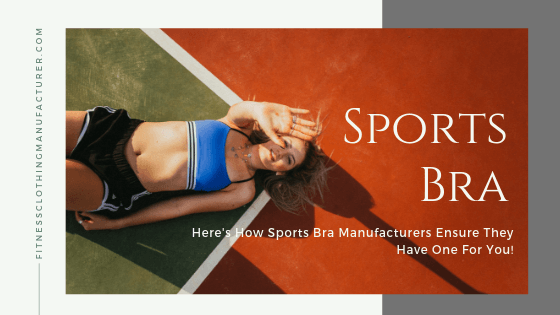 Picking a sports bra manufacturer is quite the job if you are just starting to work out. The options are too many, and you have to find out which one is the right one for you. In this blog, we are going to take a look at how sports bra manufacturers ensure that they have the right one for you.
We will look at the mechanisms manufacturers employ to bring out nothing but the very best for every body type. Now let's take a look at what sports bra manufacturers have in store:
1. Full Coverage For The Heavy Bust Size
Every woman is different and so are their top structure. For those with heavy bosoms, it is obvious that most sports bras would be redundant. However, thanks to manufacturers, that is not the case and the full coverage bra is there.
It is made of tough fabric that will go above and beyond your underarms to ensure that you have no uncomfortable bulges. Full coverage bras are also very effective when it comes to taking control of the cleavage.
They have a high rise neck design that ensures that your bend down workouts do not become to awkward for anybody!
2. The Racer Back For People Who Need More Spinal Support
Some women tend to need sports bra wholesale designs that will ensure a better back support. Racerback designs are equipped with multiple suspension designs that are specifically created to give your shoulders and back less of the weight.
It is particularly effective for people who are rehabilitating from gym driven back injuries and do not want to stop working out all at once. Racer back sports bras are also very stylish to look at often packed with neon colors to give it a more sporty vibe.
The material is synthetic in most cases, and the strong elasticity of the back design ensures comfort during your rigorous training regimes!
3. The Bralette Sports Bra For Athletic Physique
Built for those with an athletic top portion and small bust size, the bralette design is one of the most popular among bra sets wholesale. It is stylish, meant for 360 degree all round support – but most of all, very breathable.
Bralette sports bras are one of a kind and have the most stylish appearances as well. If you are looking to wear a sports bra that looks and feels good, then this is your go to design.
With these designs, manufacturers try to make sure that your bra collection is never out of a good sports bra that will fit wonderfully for whatever body type you have. You could also use this knowledge, to you find the right kind of sports bra for you!
Retailers can get in touch with the top manufacturer to get the collection they need.