Which Pantone Colors Would Fit Your Spring Tracksuit Collection!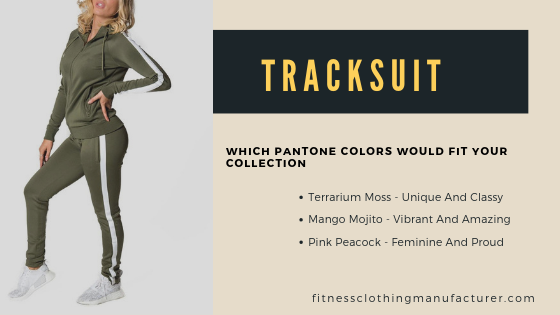 Pantone is a trendsetter in the color industry and if you want to pick the right colors for your collection, then you have to keep updated about their choices. In this blog, we are going to take a look at which of the shades from the pantone family are in this season.
Since you are already planning to renew your Spring season tracksuit collection, the pantone knowledge will bring a new dimension to your color picks. Now, if you are ready to find out, let's take a look at which hues take center-stage in the pantone spotlight!
1. Terrarium Moss – Unique And Classy
This shade of green is a refreshing change from all the other colors that wholesale tracksuits are made of. It has a neutral feel, is unique from the regular colors that tracksuits are made of and can look great in sports stripes of yellow shades.
Terrarium moss will be one of the most enigmatic colors you will come across and definitely very refreshing for people who like to keep it classy.
2. Mango Mojito – Vibrant And Amazing
Customers have different personalities and it is but obvious that there should be a color in your stock for each type. The mango mojito in that case with resonate with the vibrant ones and having this color in your tracksuit collection will definitely add to color choice variety.
It is summery, looks vibrant, and is a perfect tracksuit color if you imagine it with white sports stripes. The Mango Mojito is in fact the kind of color that would create the right buzz for your spring collection.
3. Pink Peacock – Feminine And Proud
Pantone seems to have gotten this color right down to the T. The pink peacock is a rendition of the soft pastel color that has far more personality and gravitas.
If you want a special tracksuit made just for the ladies, then you should ask your tracksuit manufacturer to get this one for you.
The pink peacock would also look great with white sports stripes and the apparel can even get a little more stylish than functional – just so it can be treated as outerwear as well!
These are the 3 colors of pantone that are in this season and would fit your tracksuit customized collection with great ease. If we have you convinced, then pick the colors you like and place your bulk orders from tracksuit wholesale suppliers.
Getting your colors shifted every now and then also gives your customers the feeling and assurance that things are up to date with the style trends!