Top 5 Halloween-Inspired Fitness Wear Style Ideas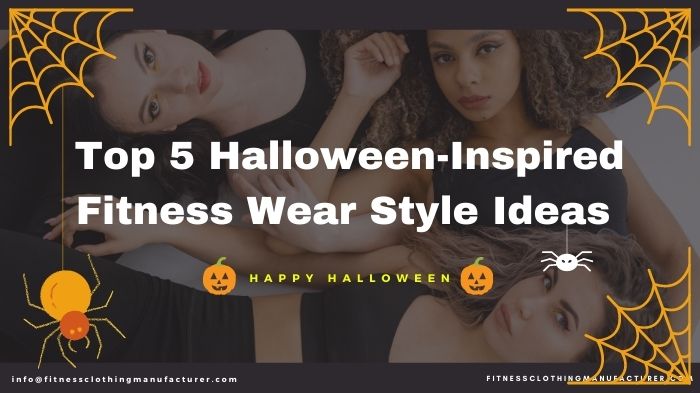 It's the end of October and spooky week has already arrived! It's time to gather your squad, because this year Halloween is going to be even better! With growing diversity in the fashion industry, designers have come up with a range of fitness apparel incorporated with unique spooky elements for the Halloween season!
It's time to break away from the mold of classic clothing, because we are here to help you update your activewear wardrobe. Given in the blog below are the coolest spooky inspired clothing ideas that will even make Morticia Addams' head turn your way!
What about a classic costume with a modern twist? You can pair comfortable mummy inspired leggings with a dark autumn colored crop top, a bomber jacket with glow in the dark design of small skulls and voila! You will definitely be the talk of the gym.
If your Halloween plans just consists of binge-watching classic horror movies, then you might want to reconsider that idea! How about a scary hike trip to the local national park or even the spooky forest that you never explored? You can be the diva of the night by pulling off a pair of cheetah print leggings, a scream queen inspired tee and jack-o-lantern jacket! Perfect for a night into the wild.
Do us a favor and don't be a bonehead. Get rid of all the boring pair of leggings and find yourself a pair of premium scary skeleton leggings. Whether you want t just chill with your partner and watch "Nightmare on Elm Street" or want to accompany your kids to trick or treating, you can adorn these leggings with a leather jacket and a thermal full-sleeved tee for the perfect night of fun.
You can also take your look outside of this world. A glam galaxy print legging with glittery planet details on the side panels will be your trusted outfit for the evening. Whether you're planning to attend the office Halloween party or simply want to catch up with your friends over bloody Mary, these leggings combined with a denim jacket will definitely be the perfect outfit for the evening.
How about dressing up fun for the Sunday and choosing leggings that entirely glows in the dark. You can match it with an equally bright tank, statement sneakers and a rad jacket to complete the attire. Don't forget the skeleton inspired make-up though to amp up the aesthetic!
What are you waiting for? It's time to stock up your retail collection with the latest activewear offerings designed by one of the sought-after fitness wear manufacturers in USA. Browse through the catalog to view the products and customize your bulk order now.