Many Benefits Of Wearing A Sports Bra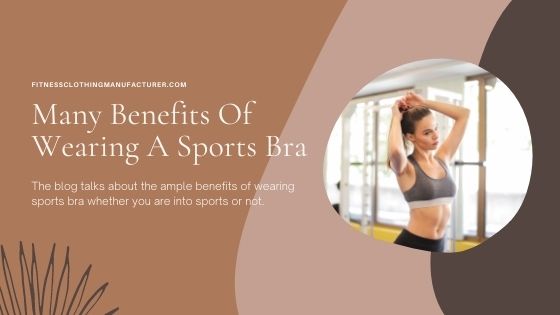 Sports bras look great, feel good and give maximum protection. The fact that if you are not into sports or any sort of physical activity you cannot wear a sports bra, is a sham!
Women and girls frequently link sports bra with physical activity and if you are one of them, give these below-mentioned benefits a read.
Sports Bras Are Thought To Be Healers Post-Cosmetic Surgery Or Injury
Women who have gone under the knife or those who are updated with cosmetic surgery know-how will be able to associate with the use of sports bras for remedy. In the later weeks of breast augmentation procedures or breast surgery, surgeons are known to suggest wearing sports bras.
Sports Bras Are Amazing Substitutes To Standard Bras
Putting on sports bras is no longer restricted to training sessions. You can wear one even while relaxing at home, at the office, while doing house chores, running or cleaning around regularly. They don't have straps, they are simple to put on as well as to take off, they don't leave dents on the skin, they offer maximum support to your breasts and they are comfy.
Sports Bras Have Not Turned Into A Fashion Accessory
All major apparel and sportswear brands dealing in wholesale gym wear have come out with sports bra designs that are fashionable. The online market is filled with sports bras of different colors, shapes, and designs. The greatest benefit of putting on a sports bra from a style perspective is that they can be worn simply as a top as well. From celebs to the everyday girl, sports bras are at the moment a general sight at fitness centers, homes, supermarkets and every other place you could think of.
Sports Bras Can Cut Down Long Term Drooping
Researchers think that movement pooled with enough support can result in long term drooping. A study revealed that breasts move even more than regular bras are made to cope with. Putting on a sports bra is a widely accepted home remedy for drooping and preventing untimely drooping of breasts.
Sports Bras Aid Decrease Breast Pain
Muscle ligaments in a girl's breast go up, down and sideways whenever there is a movement. This can at times lead to pangs of soreness in breasts post workouts. As sports bras are made to limit the movement of breasts, wearers frequently report less or no ache at all even after severe workouts.
Business owners dealing in wholesale workout clothes who wish to incorporate effective sports bras in their store can just get in touch with a popular supplier in the industry. Make sure to go through the vast collection of items, pick the required pieces and state the bulk requirement to the support team.