How To Design Your Customized Activewear When 'Winter Is Here'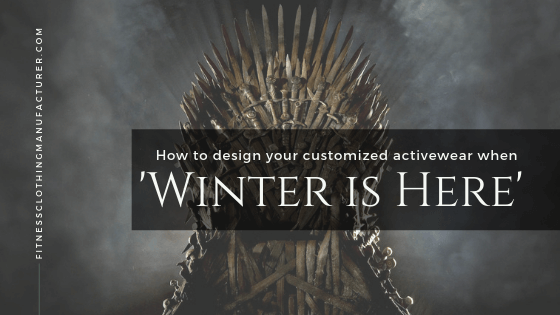 No, it is not really winter on half of the big blue planet – but it Winter is Here with the season 8 of the iconic Game of Thrones. People around the world are losing their heads, dodging spoilers, and trying to stay relevant with the latest plot theories.
If you want to bank on this trending topic and sell your activewear, whether you are retail store or private label brand, then you have come to the right place.
In this blog, we are going to take a look at what the best designs will be for the bulk orders you will place to your activewear manufacturers?
Let's take a look:
1. The Jon Snow Sublimated Compression Tee
It is too hot to actually consider making your clothes look like the real Jon Snow costumes, filled with fur and lots of leather. But with the help of the latest designers, you can land a sublimated alternative of Jon's attire printed on a t-shirt.
Sublimated clothing look quite unique and can bring an almost realistic impression to the table, something that will wonders for your sales.
2. The Dragon Queen White And Grey Compression Tee
Long sleeves and the same texture of grey stripes on white with the dragon sigil on the bust will make for a beautiful rendition of Daenarys Stormborn's winter attire. Best made in white full sleeves, this one will reign magic to your sales collection.
Make sure you have all the qualities of high quality compression tee, because it is not winter and ultimately you need your wholesale fitness apparel to sell.
3. The Night King Printed Tee
We could not just let the living have all the fun, could we? The night king is going to be the number one antagonist this final season and don't get us wrong when we say there will be plenty in his fan club.
Whether it is the blue eyes and stone cold face, or some other quirky design you can think of, getting it printed by a fitness clothing manufacturer on your collection will make a lasting difference to your sales.
These are the 3 designs that you must try, if you want to make your clothing collection better and more sellable. Because, 'Winter is Here'!