Fashion Trends For Summer Workouts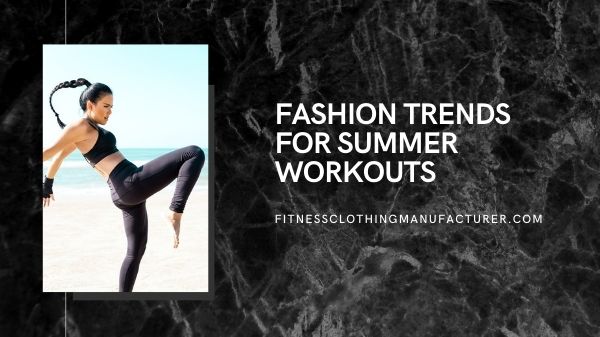 When going to the gym or the great outdoors for a nice sweat session, it's crucial to dress appropriately. When it comes to quality private label workout clothes, comfort and functionality should be of the biggest importance. The good news is that there are numerous companies out there that provide these traits while also allowing fitness professionals to show off their fashion sense while working out!
Neutral – If bright colors or flowers aren't your things, we have some good news for you. Colors like military green, black, blue, and beige will give you a natural appearance while also keeping you grounded during your workout.
Florals – Florals in exercise clothing are trendy for a more romantic atmosphere as the season blooms! Flowery designs are everywhere in spring, whether you choose big blooms or itty tiny blooms.
Mesh – The 1980s have called, and they have sent us an upgraded version of the mesh trend! Whether it's a light mesh jacket for a vigorous morning stroll or a game of tennis, or a pair of pants with sultry peek-a-boo embellishments, mesh athleisure is everywhere this season – in and out of the gym.
What's bold is back – Brilliant colors like rich grape purples, bright blues, and tangerine orange are among the season's most popular colors. Wear some purple or bright blue jeans to stand out. Look for fitness clothing with hints and touches of these trendy spring colors for individuals who want their assertiveness in little quantities.
Reach for the high – High-waisted leggings are popular this season, which is a fantastic thing for a variety of reasons. First, they look great with this season's crop top, and the high-waisted leggings give support and nearly a natural "tummy tuck." They're also slimming; search for ones with vertical lines or dramatic seams on the outside.
Crop it as though it's hot – Light jackets, hoodies, tanks, and cropped tees are all the rage during the spring and summer transitional season. Wearing a crop top provides for freedom of movement and allows you to show off your toned tummy. Wrap-style and tied-detail crops are ideal for the warmer months. Try it with another season's trend, the faux turtle neck, in either a sports bra or a cropped cut shirt.
Tie-Dyeing – Tie-dye is making a comeback and can be found in anything from leggings to shirts to sets and more in fitness apparel.
Business owners if you want to ensure that your business offers an all-inclusive selection of clothing in terms of size, contact one of the top wholesale athletic apparel distributors immediately. Drop a mail to the support team.