Different Types Of Sports Bras You Should Invest In For A Better Workout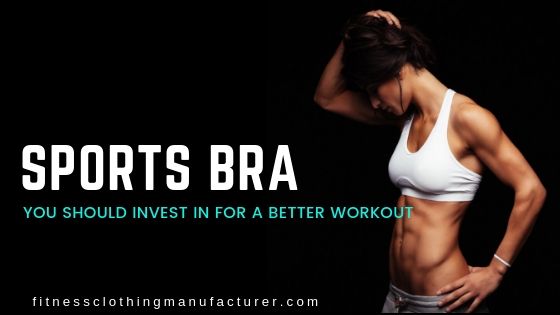 Being an athlete or a sports woman requires you to maintain a highly personal hygiene. Yet there are a lot of chances that you're not paying enough attention to your breasts. The muscles along your breast might be well-defined or toned up. Since breasts don't have any muscles any kind of wear and tear during the workout can be possible.
Hence, in this case you need such sports bra that will help support your breasts . While purchasing don't just depend upon such pieces that are only stylish and appealing. The functional aspects of the sports bra is also very important. Popular wholesale sports bra supplier has come up with a unique collection you should have a look at. Hence, read on the blog below to know more about the same.
Compression Sports Bras
These are the typical; sports bras that are available in pullover styles. You can find a variety of compression sports bras in the market that are appealing and has great performance ability as well. Ideally compression sports bras are made with elastic straps and waistband. This will help to keep your bra in place while you're performing rigorous workout sessions.
Women who are small breasted can use compression sports bras seamlessly. These bras does not come with in-built cups.
Encapsulation Sports Bras
The encapsulation bras are high intensity workout bras that are available with an in-built cup for better support. The bras are available in two variations, namely, these can be either available in lightly padded or high padded versions. Depending on your cup size and weight you need to select the appropriate pieces for a wholesome workout experience. Thus, according to your workout regime, make sure to opt for the right kind of encapsulation sports bra. These bras are generally available in unique stylish versions like the neon's, ribbed as well as multi-colored aesthetics.
Criss Cross Back
The criss cross bras are highly sporty and are versatile as well. You can not only wear these for your daily workout routine but also for pairing with see -through stoles and high waisted leggings. These type of bras work well for activities like cycling, running, cardio as well as Pilates. While purchasing such bras, make sure to keep in mind certain factors like compression ability, breathability as well as sweat wicking power.
Back Clasp Bras
This style is similar to the everyday t-shirt bra. If you wish to make a statement with your sports bra then you can definitely opt for the back clasp bra. These types of bras are not necessarily ideal for high intensity workout sessions. Hence, it will be ideal for you to wear these only for such workout regimes like yoga, running etc. While purchasing back clasp bras you need to remember certain factors in mind. These are basically the features that will allow you to work out well and feel better and confident even after the session.
Retailers who want to include wholesale sports bras in their stores can get in touch with one of the popular manufacturers in the industry. All you need to do is have a look through the vast collection of clothing and state the bulk sports bras needs to the help team. You can even avail discounts on the selected products, hence hurry!