Ways To Sport Trendy Tracksuits With Heels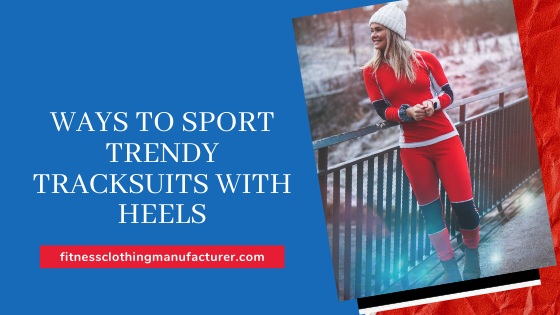 A tracksuit with a pair of heels is the latest trending style statement that is both dressy as well as athletic.
If you are wondering how to pair hottest wholesale tracksuits check out these outfit combinations to add sweet details, grunge, and edge to any tracksuit.
Faux Fur
Put on a faux fur jacket while wearing your tracksuit, for limelight, celeb style look. If your suit is blue or black, put on a complimenting Black or blue faux fur jacket and dark shades! For a super lavish look, slip into white pointed toe heels.
With numerous ornate elements, no jewelry accessories are required. If you want to carry a handbag, try carrying a tiny, spangle coin purse to keep the sensational effect going.
Bomber Jacket
A chic way to bring a twist to your toning look is a bomber jacket. The outerwear will offer you extra coverage from the weather condition while adding a chic-girl fashion edge. Throw on a black bomber jacket with most colors like tan, brown, black or blue. Take the look to the next level with stunning pumps and a top-handle handbag.
Your handbag can keep the same shade palette as your tracksuit, or you can go for a black or silver handbag. Add jewelry accessories to flatter your skin-tone like small silver hoops. Keep your makeup look neutral, with foundation, pink-toned blush and nude lips. Combine highlighter to your makeup, if you need a fast, last-minute night-time look.
Crop Top
Team up a crop top with your tracksuit, in a matching shade. This will provide you an alluring look, that is also flexible and comfortable to wear to a party or out shopping. To set off this look, team up your tracksuit and crop top with a pair of open-toe silver heels or even better, a pair of silver sneakers! Throw in some accessories to go with your silver shoes, such as silver-tone stacked bangles.
If you are heading out, try putting on a silver-tone choker along with chandelier earrings. The great thing about dressing in crop tops with your tracksuit is you don't have to buy a complete set. If you own pink track bottoms, try dressing in a crop top and do the same for any shade you wear regularly like gray or black. A jolly top with sequin will make your appearance pop up and bring glam to your regular pants.
Retailers who want to incorporate unbranded gym clothing wholesale in their store can contact one of the popular gym clothing suppliers. All you need to do is go through the vast collection of apparel, pick the pieces needed and state the bulk requirement to the support team for the same.
Audio Version : Ways To Sport Trendy Tracksuits With Heels