Understanding The Materials Used In Making Athleisure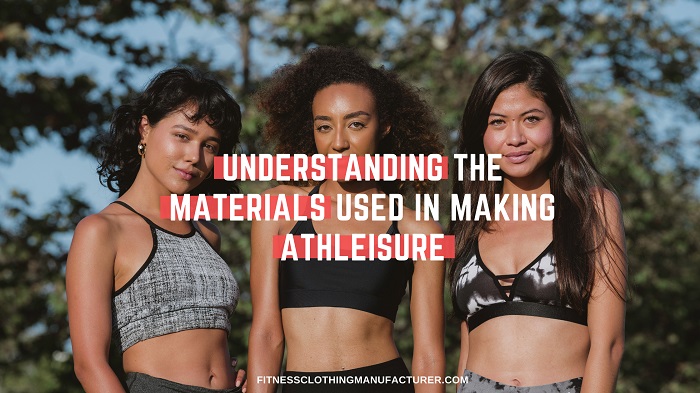 Let's see what are the various materials that go into the making of wholesale gym clothes.
Natural Materials
Wool: Ideal for controlling body heat, it's frequently used for outdoor clothing such as hiking. It's breathable as well as provides moisture protection.
Bamboo: Anti-microbial, durable, and soft – it is an environmentally friendly substitute. Keeps you cozy during winter, alternatively cool in the summer.
Artificial Materials
Silver: It is a polyester material that is mixed with cast-off silver threads, and functions as a natural anti-microbial, thus decreasing body odor.
Tactel: Soft, durable, light, and dries much quicker than cotton, it makes for amazing sportswear fabric.
Lycra: Often muddle with spandex, lycra materials are very stretchy and are mixed with other synthetic fabrics to offer support and shape. Used in activewear, swimwear, and underwear.
Supplex: Breathable, quick-drying, and with outstanding color preservation, it's used in stretch jerseys as well as other sportswear.
Elastane: Its outstanding elasticity makes it perfect for high-performance clothing.
Nylon: Long-lasting, smoother, stronger, and more abrasion resistant when compared to polyester. Low moisture absorbency signifies it dries super fast.
Polyester: It's a synthetic material that is fast wicking, smooth, and stretchy. It's durable, doesn't shrink, and retains its shape for a long period.
Top Athleisure Pick Amongst Women
Leggings: Pair them with a cropped tee or top, and you can sport them both at lunch and in the gym.
Bomber Jacket: This multipurpose item of clothing can be teamed with ripped jeans, a leather skirt, leggings, and so on.
Crop Hoodie: You can throw them on top of a sports bra and just switch from gym wear to streetwear.
Why Isn't Pure Cotton Leggings Used In Case of Athletic Clothing?
One of the most commonly utilized natural fabrics, 100% cotton is not suitable for sweating. This is strongly hydrophilic and can retain 25X its weight in water, requiring a long time to recover. Cotton can contribute to chafing and even hypothermia in winter. If cotton is not mixed with other fibers, it is not ideal for sporting leggings.
How To Buy Athleisure Clothing?
Try Them Once And Move Around In Them
Unlike trying on ordinary clothes where you stare in the mirror, try performing various forms with your activewear. This aids you to discover whether it's comfy.
Business owners if you are thinking of adding ladies gym wear wholesale into your store, contact a reputed manufacturer in the industry, and place your bulk order right away.