The Rise And Rise Of The Wholesale Gym Clothing Market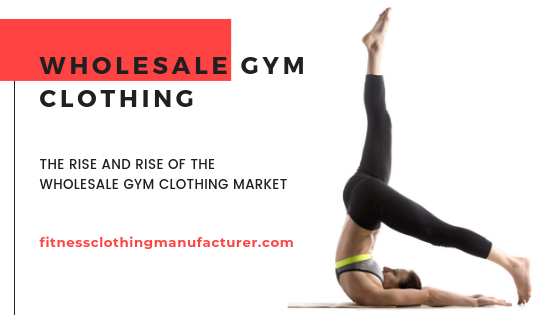 The wholesale fitness clothing market has seen an exponential rise in the last couple of years and is expected to grow beyond $180 billion by the next year. Comfort and agility during exercise and also setting personal style statements for the fitness enthusiasts is one of the key factors of the changing consumer preferences which has resulted in the stratospheric rise of this market. People are today increasingly more inclined to pursue interest in physical activities which augurs well for the prospects of the wholesale gym clothing market. Aerobics, yoga, swimming, running are some of the different activities that people find themselves invested in more today than ever before! Here are some of the key reasons for the stratospheric growth of this market segment :-
Demand And Supply
The simple economic dynamics of demand and supply are working overtime in the wholesale gym clothing market with numerous fitness brands popping on the scene and competing against each other to score themselves a share of this burgeoning billion-dollar market. This has resulted in more options for the consumers and innovation in this segment is at an all-time high which has lead to the birth of an entirely new personal fitness style statement – ATHLEISURE. New trends are disrupting this exciting market segment each day with clothing brands working on their ever-innovative best to deliver clothing in tune with the latest trends and fashion highlights. New partnerships are being forged and fresh wholesale workout clothing is being launched in rapid succession to ensure survival in this cut-throat market.
Rising Levels Of Disposable Income
Better employment conditions and better pay has increased the disposable income levels of consumers and have given them the purchasing power to follow new interests. Disposable incomes have increased in almost all parts of the world and remarkably in third-word country which has made manufacturers sit up and take notice of new prospective target bases and territories. With a host of players operating in the market, the price has been driven down somewhat which has further made wholesale exercise clothing more affordable than ever for middle and low-earning groups.
More Women In Fitness
Women have never been more incline towards sports and fitness which has opened an entirely new demographic for the manufacturers in the wholesale fitness apparel business. Women are actively inclined towards personal fitness and deeply involved in activities like Zumba, Yoga, Running and Swimming. Brands have made the most of this development by launching comfortable yet highly-fashionable wholesale gym clothing in bold colors, alluring cuts and styles to further appeal to the preferences of women and entice them into joining the fitness bandwagon.
Technology
Technology has greatly benefitted this segment as it made personal fitness goals more achievable than ever before. Right from gym-motivation and guidance mobile apps to products which are able to monitor heart beat, calories, stress levels and breathing patterns, technology has made people realize the need for personal fitness and staying healthy. With technology being easily accessible and highly informative, it has motivated the middle-aged group to take their fitness goals more seriously and hit the gym more often.
Recommended Read : 3 Of The Latest Fitness Clothing Apparel That Are Reigning The Market!