List Of Fitness Wardrobe Essentials For Beginners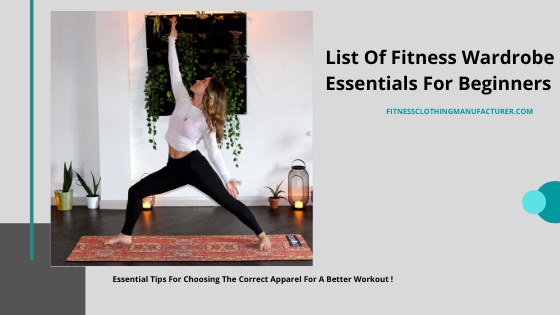 Long gone are the days when going to the gym meant throwing in a busted tee and a casual pair of pants. With the increasing consciousness for the correct fitness clothing designers are also curating wholesale fitness apparel that you can definitely have a look at.
Hence, if you want to make your customers happy, make sure to read on and find out about the unique ways you can style the same.
Let's start the list with a comfortable tank top. This is necessary for those days when you want to wear something low-key that will be comfortable to workout in as well. Choose the super trendy pastel shades as it will allow you to style the darker shades with the outfit. For example a pair of black leggings will definitely look good with a peach pink tank top.
Winter times can be brutal, especially if you're involved with fitness regimes like yoga or even Pilates. For this purpose you'll definitely need something that will provide you with the adequate warmth. Thus, a full-sleeved tee with moisture wicking properties will definitely work well.
A versatile sports bra is perfect for working out comfortably without worrying about a maladjusted strap or even muscle cramps. In this case, you can pretty much opt for the encapsulated variants that will allow you to workout with panache.
Leggings that feel like you're wearing nothing! Of course a comfortable piece of leggings will allow you to run, hop and jive in panache. You can either opt for a classic variant that has the compression ability or take the sartorial route and select something that will make your mundane Monday mornings better. It can be anything from a pair of glow in the dark leggings to even something with tassel detailing.
Sweatpants can be worn for workout as well. For example, a winter yoga session definitely calls for a stylish pair of leggings. You can get these in unique variants that can be worn with a classic fitted tank top and a hoodie.
Business owners who wish to include wholesale gym clothes in their store can definitely have a look through the vast collection of clothing that one of the popular private label fitness apparel manufacturers have in store. You can even get cool discounts on the same, hence hurry!