How To Stay Stylish At The Gym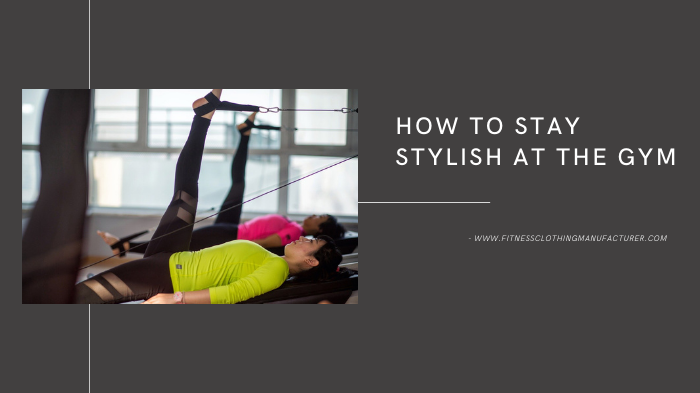 There was a time when going to the gym meant pulling on a tee and shorts, a sweatband, and some sneakers. Who cared what you looked like as long as you were comfortable? Well, thanks to social media, a workout is now an excuse to splash out on the latest trendy gym wear and post selfies on Instagram.
What you wear will probably depend on how you intend to workout. There is also the trip to and from the gym to consider, as chances are, you will change into a new outfit after your session is over.
Read on for a guide to staying stylish at the gym, even during an intense HIIT class.
Cardio Training
Cardio training generally leads to excessive sweating – or at least it should if you're pushing yourself hard enough. Whether you are running on the treadmill, doing a spin class, or being beasted by a personal trainer, the right fitness clothing is essential.
Firstly, look for a supportive sports bra if you are a lady. Sports bras control the natural jiggling that occurs when we move up and down or from side to side. Not only is this more comfortable for you (no black eyes if you are a larger lady), but it also protects your delicate breast tissue from damage.
Technical Clothing
Look for technical clothing that wicks moisture away from your skin. You need clothing that fits well but isn't too tight or restrictive. Go for several thin layers, so you can remove layers as your workout becomes more intense and add layers when you are cooling down. Some items like a hoodie are useful for the start and end of a workout.
Choose designs and colors that flatter your skin tone and hair color. There are some really cool gym apparel brands out there, to suit most budgets. One piece of advice worth keeping in mind is that it's best not to wear a matching outfit in one bright color. For example, if you wear a hot pink crop top, pair it with black leggings to avoid looking like a popsicle.
Choose the Right Footwear
The right footwear is essential. If you are a running fan, buy the best quality running sneakers you can afford, ideally training shoes that suit your gait. Poor shoes can lead to injuries, which won't do your workout regime much good.
Yoga or Pilates Class
Yoga or Pilates classes are less intense, but comfort is still important.
Wear layered outfits for the warm-up and cool-down elements of your class. Look for garments that let you stretch in comfort. Some people prefer stretchy yoga pants whereas others like loose tracksuit bottoms – it's up to you.
Lots of people like to wear socks for extra comfort. You can personalize your outfit with cute novelty socks from funatic.com.
Accessorise with a Cool Gym Bag
Holdalls are the best type of gym bag, as they are large enough to carry everything you need, such as a towel and a change of clothes. Shop for a stylish metallic one from Accessorize or a camo bag from Juicy Couture.
Follow the tips above to ensure you stand out at the gym for all the right reasons.