How To Find The Right Gym Clothes For A Low-Key Workout Routine?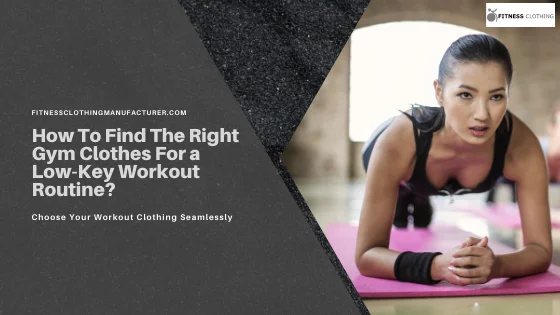 Congratulations on your new endeavor. Finally you have realized the benefits of working out. Although you may not be associated with an intense workout routine, the type of activity that you wish to do means you have to opt for clothing that will support you while you slog during the workout.
One of the popular activewear manufacturer has come up with a collection of clothing that you can have a look through. Given in the blog below are the details so that you can choose your workout clothing seamlessly.
Sports Bra
Of course, you would wear a bra to the gym, but your ordinary padded bra wouldn't sit well against an intense workout. The best thing about the sports bra is that it holds everything in place- and reduces movement in the bust area without crushing your ribcage. The correct sports bra should be made from breathable and comfortable material so that it's okay for you to work out in it.
Gym T-shirts
If you're not okay with showing up to the gym in just a sports bra, you can slip on a gym t-shirt on top of it. Now, Gym t-shirts are different from your ordinary baggy t-shirt, especially if it's from the activewear range. These gym t-shirts are made from cotton and have anti-microbial qualities. They also come in really cool designs and shades, so you'll nail the gym fashion game with these in your closet.
Leggings And Tights
Baggy pants are not the best things to work out in. They often interfere with your workout and restrict movement. What you need are activewear tights. These tights fit you well and are flexible enough to move along with you. Perfect for a morning run or some deadlifts at the gym, these tights will give you all the comfort you need to burn those calories!
Post-workout Jacket
It is important to look stylish both during and after your workout. You can opt for a light and stylish jacket over your gym clothes to walk out of the gym like a celeb. It's not only stylish but also comfortable during the cold winter months.
Hence, wait no more and look through the vast collection of ladies gym wear wholesale designed by one of the popular fitness clothing manufacturer. Look for the MOQ of the products and drop a mail stating the bulk needs to the help team. You can even avail cool discounts on the same!