Gym Clothes: 3 Tips to Sell More To The College-Going Fitness Buffs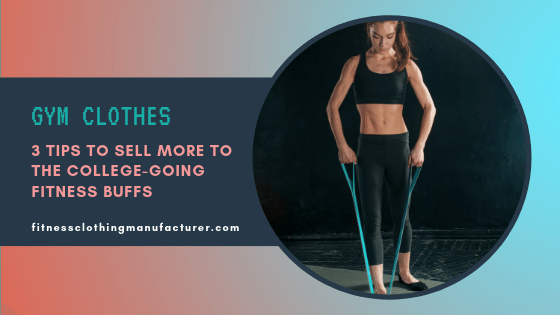 Not just about the grades. College students, today, are just as much conscious about their fitness level. So many of them, even with crunched schedule, take time out to hit the gym or tracks every day.
It's a good trend. For the students. And, of course, for the fitness clothing business owners. They can easily leverage on this emerging market to boost their sales.
Here are 3 simple but powerful tips to sell more of your gym clothes to all the college-going fitness buffs:
1. Get Customized Gym Wears
They don't want the same, old, boring variations of tops, bottoms, and outwears. They want something fresh and unique that adds to their style quotient.
So, do not settle for the traditional types of gym clothes wholesale. Order the custom varieties that have different color combinations, eccentric designs, and a complete renewed feel.
Personalize your bulk according to the exact needs of your target audience.
They want to look stylish. Give them the trendiest style.
2. Invest In Influencer Marketing
There's a reason why influencer marketing has become the "it" in the marketing scene.
Consumers trust influencers. And when these influencers endorse any product, their followers are more likely to purchase that product vs. the seller coming up to the customers through ads and saying "we offer the best products".
Influencer marketing is ideal if you're selling custom private label gym apparels.
Rope in a few influencers that appeals your target audience, negotiate the pricing and start the campaign.
If done right, high ROI is almost always guaranteed.
3. Offer Lucrative Discounts
The young bunch is a compulsive buyer. If they see good offers, they will likely buy those products even if they wouldn't necessarily use them immediately.
So, offer exclusive and limited-time period discounts on a select range of gym clothes. Promote the offer on social platforms through paid ads. (Instagram Stories ads are GREAT for this!)
With the right images of the product and engaging copies/descriptions, converting the target audience is quite easy.
These are three simple tips to sell more of your custom gym wears to the fitness enthused college-goers.
Conclusion
Of course, there are plenty more such tips. Like, you must settle for nothing less than the best quality wears. So, you must always purchase your wholesale from one of the top gym clothing manufacturers.
Following, even after sales, you must keep your customers engaged through emails and personalized blog posts. This would enhance your retention rate, which can give your profit margin a massive boost.
In short, with college students becoming more conscious of their fitness and shape, it's a great opportunity for the clothing business owners to tap on this market of young consumers. Find one of the foremost custom gym wear manufacturers and purchase your wholesale today.