The Most Commonly Asked Questions About Sports Bras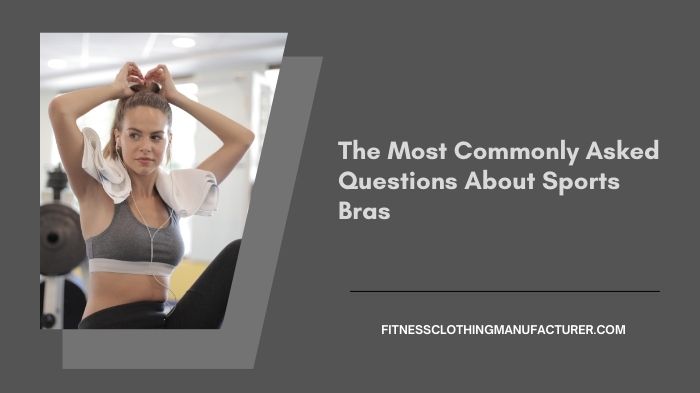 Choosing your attire for your upcoming gym session, at-home training, or yoga class should not be taken lightly. Clothing is an essential part of achieving excellent outcomes when working out, but it is not the only one. When it comes to physical exercise, your wardrobe choice is more than just a question of taste.
This is where wholesale sports bras come into play. Sports bras are the newest most important item to have on hand when working out your mind or body. Sports bras are an excellent choice for selecting a cardio workout or prefer a more relaxed approach to exercise your body and mind, such as yoga.
Is it true that sports bras are exclusively for working out?
Most certainly not! Sports bras are an excellent way to add a unique element to your closet that will come in handy in various situations. Not only may it be utilized as a fashion statement, but it can also help you with added comfort.
Ladies, for example, are likely to be aware of the frequent unpleasantness of menstruation pain. During this time, people are susceptible and need all the help they can get. Wear smooth and relaxing sports bras at this particular time of the month to provide yourself with relief.
How can one maintain sports bras looking new and clean?
Sports bras require extra care when it comes to upkeep. After all, they bear the burden of absorbing perspiration, and if not correctly cared for, they would wear out quicker.
Wash your sports bra after each workout to maintain it clean and fresh for a more extended amount of time. Check to see if your detergent is acceptable for the fabric of the sports bra and make any required changes.
What happens if you lose weight?
If you have a high-intensity exercise scheduled for the next several months, odds are you want to reduce weight. And you most surely will if you are persistent! So, what will become of your sports bra?
Even if you intend to lose weight in the future, always select your sports bras in the present. When the time arrives, you can choose a new sports bra that can accommodate your new size. Make no compromises, and keep in mind that the wrong size might have significant implications for your breasts.
If you want to offer your customers high-quality sports bras, you need to source from the best private label activewear manufacturer in the market – Curate a bulk order based on your business needs and mail it right away.