Buzz Worthy Men's Gym Wear Perfect For 2020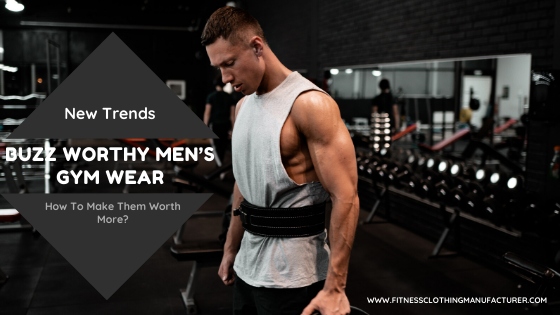 Finding gym clothes that are functional but still look great used to be quite the challenge. While baggy t-shirts and old sweatpants used to be the norm, today it's all about combining the best of performance and style.
Manufacturers of ladies and mens gym wear wholesale have designed gym wear that boasts of the exclusive features that will help you beat the blues and jump right into your workout routine. So, wait no more and read on the blog below to find out more about the men's workout wear that can transform your gym wear style.
Cotton is clearly a winner when it comes to breathable fabric, but the modern manufacturers gave the fabric a major boost with crazy quick-drying and stretch technology. The charged cotton fabric assures that in the gym or on-the-go, this shirt helps you stay focused with no need to sweat the small stuff.
The sleek, functional pants for your outdoor runs or morning hikes will block the wind and rain while keeping you looking modern and stylish. They are super lightweight, comfortable and great for short or long distance traveling.
For today's active men, workout tights are essential to have in the mix. The designer graphic four-way stretch with wicking anti-odor finish are stellar options for both look and comfort.
Muscle tees with a good look and fit are few and far between. A neutral colored solid muscle tee hits many cords correctly with the arm hole giving just the right amount of room, not to droopy or overexposing. It has a great cotton-poly blend that assures a comfortable and flattering fit.
A puffer vest is an essential piece in your activewear wardrobe and the printed version hits all the right marks in function, warmth and style. It's a light, easy option to throw on when during the cooler months.
A slightly-tapered hoodie is a prime choice for stylish layering in the colder months and looking lean when sporting the top-layer in the spring. This hoodie helps to accentuate your silhouette as well.
If you're looking for workout essentials like dri-fit tshirts, compression shorts, men vests, etc. make sure to contact one of the popular gym clothing suppliers. Have a look through the ever expanding clothing collection and checkout the MOQ. Communicate the bulk needs to the help team for the investment.