8 Benefits Of Wearing Compression Vests To Gym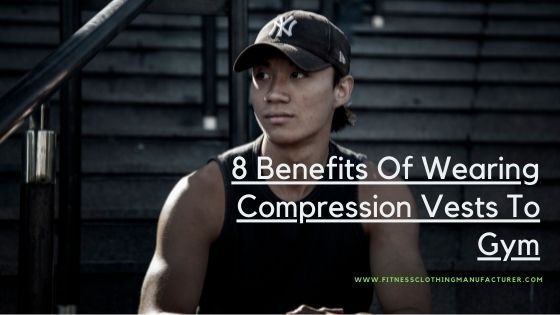 Wearing compression t-shirts is the new activewear trend to make your gym sessions more effective. They have many benefits that make them a functional fitnesswear. If you are a business owner wanting to add compression vests to your activewear collection, contact a wholesale athletic wear manufacturer of repute.
1) Offers Support
Compression vests that are scientifically designed provide support to your body and stabilize your body parts as you train in them. The pressure imparted by them can improve blood circulation and also speed up your post-workout recovery.
2) Maximum Breathability
Despite being tight-fitting, compression gear is fully breathable. Compression garments are designed in such a way that it allows air circulation to keep you cool during hardcore exercise.
3) Levels Down Muscle Soreness
As per experience of many enthusiastic gym goers, compression vests have been found to eliminate muscle soreness and fatigue. This is not only limited during your exercise but also extends for hours. Thus, you can perform better for a longer period and the muscle soreness will surface much later.
4) Enhances Recovery
If you sport compression vests, you can notice how efficiently they speed up the rebuilding of your muscles after exercise. Alongside it also helps to reduce blood pressure and muscle fatigue, which consequently helps in the healing of broken tissues and muscle rebuilding. The added tightness also helps to ease swelling quicker.
5) Imparts Comfort
You can enjoy your workout more if you feel relaxed and comfortable. Compression clothing exerts an extra pressure onto your body. So when moving your body during exercise, your garment will not ride up. Also these cause less friction as compared to standard athletic wear.
6) Performance Booster
Compression outfits can enhance your workout performance. For instance, compression shorts can improve your jumping performance. By sporting these shorts, you or any other athlete can regain their maximum jumping ability even after an intense workout round.
7) Commendable Drying
Compression gear like tank tops are usually made of polyester or nylon related materials which accelerate the drying of your sweat. Try to avoid cotton clothing as they reduce the compression ability. Many are familiar with the uncomfortable experience of drenching in your own sweat that hampers further movements. So do opt for compression gear while going to the gym to stay dry.
8) Style Enhancement
Flaunt your physique with confidence as you engage in a motivational workout by wearing compression vests. Compression clothing can define your muscles if you have built them up through dedicated hours at the gym.
As a retailer with an aim to expand your compression clothing section, a friendly tip is for you to connect with one of the esteemed gym clothing manufacturers. The comprehensive catalog of such a fitness clothing manufacturing hub is sure to provide you excellent compression outfits.