4 Gym Wear Essentials For Ladies Who Work Out!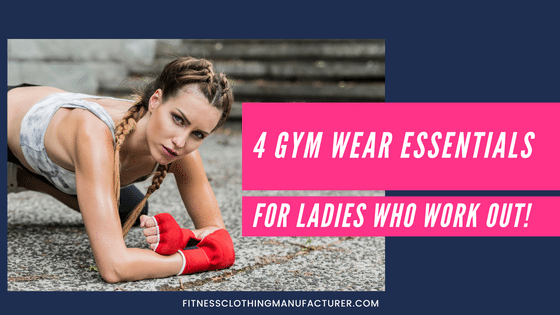 If you are in fact a woman who likes to keep fit, then having the right gym wear can make all the difference. However, in a climate where things are constantly getting updated, it gets difficult to keep track.
In this blog, we are going to talk about 4 gym wear essentials that can make all the difference. One should try and have them in their wardrobe, and watch for themselves how the entire experience changes.
Want to find out? Let's take a look –
1. Sports Bra Is Always Priority Number 1
Working out to build your body means you need to have certain fitness apparel that will ensure proper support and keep you injury free. For women, a sports bra is always priority number 1 among all ladies gym wear wholesale.
Not only does it help you keep a well balanced form during your workouts but also supports your back and gives you an injury free experience.
The sports bra is also a stylish top for workout wear today and an indispensable item for all workouts, whether you run or push weights!
2. Leggings Cannot Be Forgotten
The gym leggings is probably the only apparel that is as much style as it is utility. In fact, today every woman you can find will commit to this variant of gym bottoms over anything else. It allows great comfort on so many levels, from UV protection to stretch fit.
So, getting the right type of leggings is extremely essential for the kind of workout you do and there are ventilation and composition differences for each type.
Once you get your pick from the store, having a better workout experience is going to be part and parcel of the game.
3. Add In Gym Jackets
Gym jackets are one of the most important things that people often neglect. Not only are they a compliment to your weight loss and sweat program, but are also quite utility for your regular outerwear.
These apparels are also a great addition to your wardrobe in terms of style and come in very handy to tackle the cool morning air during a run. It is no wonder that gym jackets are one of the most popular apparels manufactured by women's activewear manufacturers.
4. Gym Gloves Of High Quality
Callouses can be very irritating, especially if you are hard core lifter. The leave the hand feeling dry and hard – things that no hand deserve, unless that's what they want. If you get a high quality gym glove, then your lifting grip and performance will increase drastically.
Gym gloves today have become quite advanced and can be used for everything from CrossFit to regular workouts. So, what are you waiting for?
These are the 4 essentials for ladies who like to workout and take care of their health. Once you get in the zone, you will see for yourself, how great the entire experience is. Just get in touch womens fitness clothing wholesale retailer today and find out!