3 Fitness Apparels That You Should Have This Year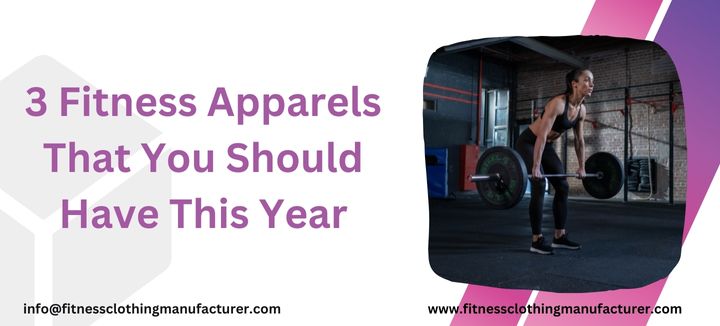 Another year and new trends! Though the basic pieces remain the same, it is just the change in their appearance.
So it is time to update the fitness clothing trends so that you can be prepared. Here is a list of activewear trends that you must know about. Keep reading!
Yoga Pants
Yoga pants are a blessing to the entire race of women. You ask why? The answer is simple. It is comfortable to wear and it is extremely versatile in nature. This means you can wear it for your workout sessions and also sport them for casual gatherings without having to compromise on your style quotient. While the basic style of yoga pants remains the same, in this year, they are supposed to be peppier and funkier. The pairs have been incorporated with cut out details and bright colours which lend a fine texture. Breath-ability at its best, this year edition of yoga pants is a stunner, to say the least. Reputed wholesale yoga pants manufacturer has an inventory that displays an exclusive collection of the same. Retailers can make a bulk purchase of the same by simply registering online.
Hoodie
When everything else fails, you should wear a hoodie. The safest piece in your wardrobe works well for numerous occasions- be it going for a run or hanging out with friends. Hoodies are a great layering option and they work well when combined with overcoats and sweater and leather jackets. There is no denying the fact that the snug feeling that a hoodie provides is simply outstanding. This year is going to be more about going back to the roots, so expect lots of greys and blacks and navy to go around. The modern variations of hoodies are also spectacular with the embellishments, but the simple ones with the warm cowl and soft fabrics are going to be the hot favourite.
Sports Bra
Ruling the fitness clothing scenario, sports bras are the pieces that are worth the investment. With comfort factors ruling high, sports bras are a woman's best friend when working out. The sports bra wholesale manufacturers use the best quality materials that lend a soft touch to the skin, keeping you at ease all throughout the regime. But other than the functional aspects, the versions which are expected to grace the market in this year are high in fashion as well. From bright colours to quirky prints, the sports bras showcase it all. Animal prints and striped extravagance has been ruling the circuit for long and is expected to continue their journey forth. Expect a lot of floral patterns and earthy tones too. Whatever the prints and shades, whether wearing them individually or under your clothes, they will shine through, with all exceptions.
So, what are you waiting for? Update your wardrobe today and keep it things going in this year as well. Be fashionable and keep working out for a healthy and stylish life.