Uncommon Materials Used In Vegan Sportswear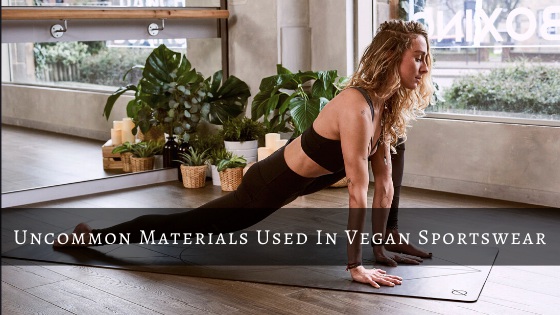 Sportswear is commonly referred to as the apparel that people used when engaging in physical activities. From simple tasks like running, walking and swimming to more extreme and complicated sports like skiing, skateboarding, mountain climbing, and the like. Sportswear is made not only to look good, but also serve a function to support the user in their task. Their functionality can range from protection, insulation, temperature regulation, and wearability.
Vegan clothing or cruelty-free apparel is on the rise. Their innovations save countless animals from being killed or harmed to make clothes and is now widely used by the public. Here are some of the uncommon materials used for sportswear:
1. Hemp
Hemp is one of the leading sources for textiles and an alternative to cruel animal-derived clothing. Afends has a collection of apparel that derives from hemp because of certain advantages it has. Hemp is low-maintenance because it doesn't need pesticides or any chemicals to maintain and it also has a high yield, way better than cotton. This means that hemp is very economical and sustainable. The fabric is light and can absorb moisture well, making it breathable like cotton.
2. Soybean Fiber
Soybean fiber fabric is lustrous, soft, light, and smooth. Its absorbency is higher than that of cotton. It is also stronger than many of the conventional fabrics except for the synthetics. They are perfect for functional under-garments and clothes for summer.
3. Coffee Leather
Leather is one of the products that come from inflicting terrible harm to animals. The advent of alternatives to leather has provided consumers affordable and cruelty-free options for their uses. While the main alternative to leather is a synthetic material, Coffee leather is special because it's natural-based and is coming from recycled coffee grounds. This innovative material is currently used in sneakers.
4. Pineapple
Piña is a fabric derived from the pineapple's leaves, particularly the Native Philippine Red Pineapple. This soft fabric was considered a luxurious commodity because it is soft and stylish. Although the material and its process into making it into clothing have been around for a long time, the production is limited by the supply. The complexity of the process has hindered its rise into the mainstream market. Piñatex is a leather derived from Piña that is used in many applications including sports equipment and apparel.
5. Banana Fiber
Fabric derived from banana fiber, also known as "Abaca" has seen a rise in its usage in textiles. It is used in banknotes, paper, tea bags, and textiles because of its durability and adaptability. Mixing Abaca and synthetic materials have promised to create a stronger material alternative to what is currently used in automobiles and other lightweight equipment. Although there are many uses for abaca, the labor-intensive process of producing one is of its obstacles from reaching larger markets.
6. Orange Fiber Silk
A recent innovation using discarded orange fibers from juice makers into fabric has won an award in 2015. Now, it is on the rise among sustainable and conscientious consumers. The conventional silk alternative has the same luster and strength to match without the harm inflicted on the worms.
For whatever purpose or activities you're engaged in, the proper sportswear will always be a factor to be the best that you can be. The use of vegan materials for your clothing has the potential to be mainstream and all for good reason.