How Your Perfect Running Outfit Should Look Like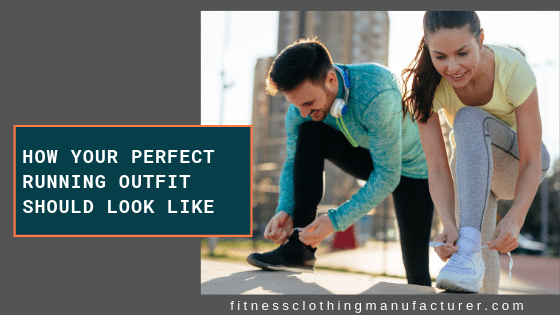 A lot of us have the habit of getting up early in the morning just to get the joggers and tracksuits on to feel the nice refreshing warmth of the new day by starting it off with a walk or a jog down the park. The morning cardio workout usually keeps you refreshed through the day and you don't feel the need to rest in between tasks. This enables both efficiency and clarity in professional and personal lives. Apart from the regularity and discipline, the workout gives you a toned sporty look and the regular calorie burn will improve your metabolism which will keep you charged throughout the day. You should pay special attention to the clothes you are wearing for your morning jog. This will heavily determine the holistic running experience you are going to have. To make the lives of fitness freaks better, famous fitness clothing company names are coming upfront with new designs and trendy collection of running clothes. Choose the best between them to ensure superior quality clothes on your bulk buy.
So, let us check out the different things you are going to need:
The Perfect Dri Fit T Shirt
You should always opt for body hugging clothes when choosing clothes for regular workout purpose. The compression works brilliantly with maintaining your body composure while keeping you stylish and comfortable. Dri fit t shirts, running t shirts are now made of special fabric blends with superior moisture wick which enables the wearer to keep them on for longer periods of time without feeling damp or wet too quickly. The right dri fit or compression t shirt will give you the exact feel you need while running, strong, agile and confident.
Get Fit Bottom Wear
If you want to run without feeling flabby legs every time you try to speed up and the pants keep flapping against your skin, then get a pair of fit track pants. You don't want anything that is too body hugging and tight as well. You need some room for your leg to space out as well. Get a pair of soft and comfortable running track pants or joggers to get the right feel and comfort every time you go running. You can ever try out shorts for your morning jog, shorts are perfect replacement clothes for regular old track pants and these will keep your limbs free and you will get a sweat free running experience.
Pick Out The Right Shoes
The perfect way to compliment your workout apparel is to choose the perfect pair of running shoes. If you choose shoes which are heavy, larger than your feet, or made with coarse material then this would be a disaster as it can cause a lot of damage to your legs, which can result in a lot of complications, like back pain, calf muscle strains and a lot more. Choose shoes which are springy, fold it towards itself and watch how rapidly it retains its shape. This will give you the idea of how flexible the shoe really is. The flexibility will matter when you start to run. While choosing the shoes, don't just stand and pose, run, jump around, make physical movements. This will let you know about the right feel. Lightweight shoes work best for runners.
For retailers looking to add trendy new collection of custom jogging suits,should find out the leading activewear clothing wholesale manufacturer to place their bulk order. Drop in an email in case of a bulk buy query.