Choosing The Right Winter Workout Clothing For Men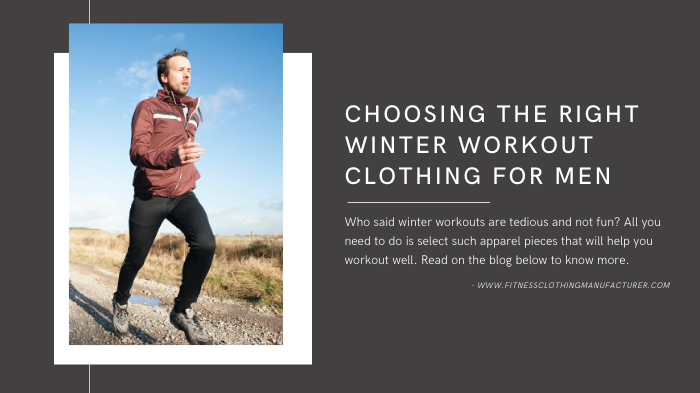 There are tons of different types of fitness clothing out there, from form-fitting fashion pieces to sports-specific, practical designs. The type that's best for you will not only depend on your tastes and the type of workouts you're doing but the weather, too.
However, when it starts getting colder, you have to make some basic changes to your winter wardrobe. One of the popular suppliers of wholesale gym wear has come up with a collection you can have a look at. Therefore, read on the blog below to know more.
Layer Up
The key to keeping warm during winter workouts is to wear a few layers. However, you can't just throw any old pants on with a shirt and hoodie and expect it to work. You have to be strategic about it. Your first layer should be something fitted top compression tights and a slim-fit shirt. Over the top, you could wear some sweatpants or joggers and a hoodie, made from a thicker, warmer material.
Opt For Long Sleeves
Long sleeves are essential for working out when it's chilly outside. You can buy compression tops with crew necks and long sleeves to keep your upper body covered. These are usually made from breathable materials, so you don't have to worry about feeling suffocated when your body starts to heat up.
Choose Sweat-Wicking Materials
You don't want your clothes to get wet and soggy once you start sweating. If they do, they'll start to feel sticky and heavy, and you'll have trouble keeping warm. Soon, you'll be shivering! That's why you need to wear a thin layer of synthetic material, like polypropylene. Leggings and rash guards made from this kind of material wick away sweat from your body.
Safety First
In the winter months, if you're working out in the evening or early in the morning before the sun comes up, it's important to make sure you're seen. Don't worry, you don't have to completely cover yourself bright neon clothes. You can do this by simply wearing reflective workout clothing.
Do you wish to invest in wholesale sweat suits for yours tore? Get in touch with a renowned supplier and communicate your requirements for the same. Look for the MOQ of the products and drop a mail for the details. You can even get cool discounts on the products.